Here's a chance for you to set some goals for the upcoming school year and share them with the world! I am a big proponent of public goal-setting because it forces me to stick with them! Last year I set 3 goals and posted them on my blog. I also shared my goals with the entire staff at my school. Nothing like putting yourself under a lot of pressure...but that's how I roll best. So here's your opportunity to set some goals, share them with the rest of the world, and then go have an awesome year!
Just write a blog post stating your goals and then click on the picture below to link up!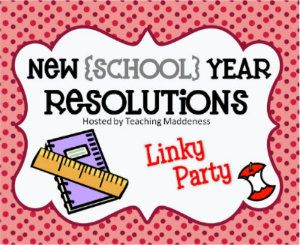 MY GOALS FOR 2012-2013
1.
IMPROVE UPON THE GOALS I SET LAST YEAR
: Daily 5, Blogging, and connecting with the world. Last year I implemented some huge changes and the payoff was enormous! My students learned to be independent learners and thoroughly enjoyed The Daily 5. They also benefited from the the many contacts we made through Skyping and blogging. This year, my students will experience quad-blogging and more global interactions right from the start. I hope to do a "Skype Etiquette" session during the first week of school with another classroom. (Any takers?)
2.
LESS CLUTTER!
I envy the teachers whose rooms look pristine all year long. When I look at my room in the afternoon, it looks like a tornado hit my desk because it tends to be the catch-all. My goal is to have a place for everything so that things don't just get thrown on my desk or on the floor behind my desk. I am skeptical about this goal, but I have seen a lot of great organization ideas on
Pinterest
that may help.
3.
BUILD STRONGER RELATIONSHIPS WITH MY STUDENTS:
I sometimes feel that I miss out on opportunities with my students because I am too focused on the tasks at hand instead of what the students need. Taking time to really listen to my students will go a long way in helping build mutual trust and motivating them to work to the best of their ability.
WHAT ARE YOUR GOALS?